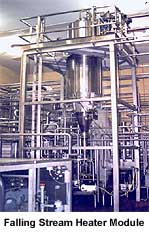 Ultra Process Systems, LLC is the North American Specialist in ultra high temperature (UHT) process equipment and services to dairy and food processors who produce fluid food products for UHT and Ultra Pasteurized (ESL) packaging and distribution.
Under an exclusive licensing arrangement with den Hollander

Engineering of Holland, Ultra Process Systems will design and build systems and components utilizing their unique patented Falling Stream Infusion Sterilizers (FSH), now widely used throughout the world where optimum flavor and preservation of nutritional values are important.
Ultra Process Systems is a systems integrator for Waukesha Cherry Burrell in North America.